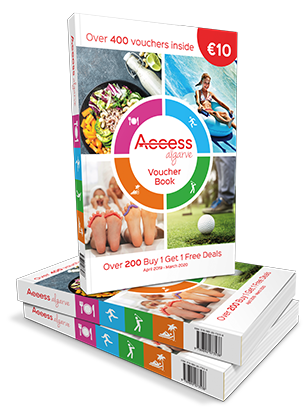 A key to the Algarve
Access Algarve is a company founded in September 2016 based in the Algarve, Portugal. Our aim is to provide savings to both local residents and tourists through redeeming vouchers. Vouchers are accessible through the subscription of the mobile app for IOS & Android. There are over 600 Vouchers and 300+ Buy-1-Get-1-Free deals.
Designed with 34 keys categories of Food & Drink, Activities, Lifestyle & Golf; Access Algarve provides vouchers from Sagres to Faro.
We bring everything together in order for you to get the most out of living here or visiting on holiday. Whatever your age or budget, there really is something for you. Enjoy what the Algarve has to offer and perhaps experience new adventures that you might not have even thought about. There are vouchers to suit everyone and keep you and your family entertained.
View Video Explainer
View online version